Dog of the Day: Your Whippet!


Make your whippet dog of the day! Don't be shy, send us your best pictures and let the world know about a very special whippet dog... yours!

Meet the Featured Whippet of the Day!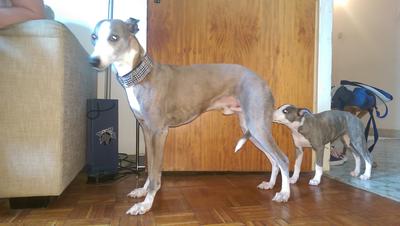 Father and Daughter
by Mario 
(Zagreb, Croatia)
Click here to read the story and post a comment about the dog of the day

In this page you'll find whippet pictures sent by visitors. Bookmark this page and visit often to see the latest additions.
Don't let those dog pictures be forgotten at the bottom of a drawer or languish in your computer, dig out your best whippet pics and put your pet in the limelight where he belongs.

To send us your whippet pictures click here, and you can easily enter the photo and a short story about your dog. No registration required.
Your picture might be chosen and your whippet may appear on our home page!
Catch with your camera that magic moment or, if you prefer, send us your drawings, paintings or collages about whippets.
We are open-minded, love creativity and our dogs are so beautiful that they are a wonderful source of inspiration
To send us your favorite photo use the form below, it will allow you to submit easily the pictures and info of your whippet!
Once your picture and story are live, your dog will have his or her own permanent page on the web and will appear on our homepage.

Invite your friends to visit your whippet page, share it on Facebook, Twitter, Pinterest or your favorite social media.
Stay posted, we'll renew the page often to give every whippet the chance to be a star.
Write your comments and give your rating to your favorite pictures.
To see other visitors' contributions and leave your comments click here
or go to the bottom of page.
Make your Whippet Dog of the Day!
Send us a your favorite whippet photos and make your little hound "Dog of the Day"! Your whippet picture may appear on our home page.
Just easily enter the photo in the form below and tell us everything about your whippet.
We love to read about your best friend's favorite activities, abilities, tricks, championship titles, stories, quirks, hobbies, favorite food and sofas.
It's your occasion to brag unashamedly about your dog!
Entering your info is optional, add them only if you want to get credit for your entry.



See more whippet photos by other visitors
Click below to see contributions from other visitors to this page...

Click on the link to go back to the homepage from Whippet of the Day
Whippet Freebies!

Get a free book: Whippet Tails - Short Dog Stories,

plus

 an infographic and more as a welcome gift for your subscription to The Whippeteer, our free newsletter!

Don't worry your Email is safe with us, subscribe now!
Aug 13, 17 11:04 AM

This is Floyd and his daughter Bambi.

Jul 27, 17 05:26 AM

Kelsey is the most joyful puppy ever. He loves to walk in the park, go to obedience training (well, sort of) and cuddle in bed. He's four months old

Jul 14, 17 11:23 AM

I moved into my new home after a marital break up. I was lonely as hell! I saw this strange looking and oddly shaped (staffy mix) dog. Long story short.