Custom Search
Winston ( Tigger )
by Bernadette
(Nottingham )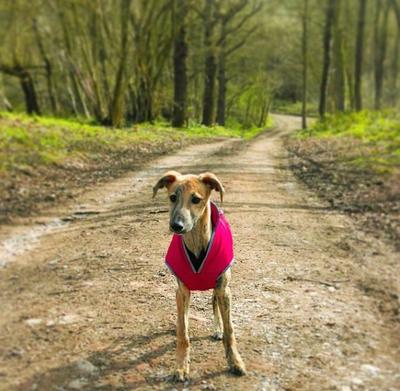 Winston in his read coat.
He's a real joyful character, he's nearly 5 months old and he can fetch, run like the devil and jump like a kangaroo!

He's a real joy to the family, whose cute and cuddly. We often take him for long walks and he runs round the field like a mad man!!!
Join in and write your own page! It's easy to do. How? Simply click here to return to Dog of the Day.
Whippet Freebies!

Get a free book: Whippet Tails - Short Dog Stories,

plus

 an infographic and more as a welcome gift for your subscription to The Whippeteer, our free newsletter!

Don't worry your Email is safe with us, subscribe now!
May 16, 17 01:56 PM

Our family is moving abroad for a year, and sadly, we can't take our dog with us. We are looking for someone (individual, couple or family) to take him

May 05, 17 09:56 AM

How do I get her to let me cut her nails? My whippets name is Nu'u. She is 3 years old and beautiful. ANSWER If doesn't like a regular nail cutter,

May 05, 17 09:10 AM

He's a real joyful character, he's nearly 5 months old and he can fetch, run like the devil and jump like a kangaroo! He's a real joy to the family,