Win a Whippet Collar!


Enter our
Whippet Dog Photo Contest
to win this lovely whippet collar.
Click here
to find out more!
Website Search

Can't find the page you are looking for? Type a word in the space below, click the search button and find it in our site!
Custom Search
Translate this Page
Do You Have a Dog Related Website?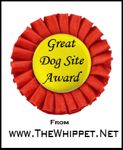 Would you like to show the "Great Dog Site Award" badge on your dog related site?
Cick here
to find out how!
Best Whippet Books

Read our
interview with Bo Bengtson
, acclaimed author of the most important and beautiful book about the whippet breed.