Whippet Dog Coats
Free Dog Coat Patterns
Whippet dog coats are a must for your small hounds in cold weather. With these free dog coat patterns, you can make them at home.

Short hair and an enviable low percentage of body fat, will make your whippet uncomfortable in extreme weather, unless he has a chance to warm up in his favorite way, running.
With these free dog coat patterns you'll be able to make your whippet clothing at home in few easy steps.
Polartec or fleece is the best fabric for dog coats because it is warm also if it happens to get wet but it is also soft and comfortable.
If you live in rainy weather you can make the coat with two layers of fabric.
Use a waterproof fabric on the outside of the coat and warm, soft fleece on the inside.
Do not leave your dog unattended with a coat on especially if he is not used to wearing it.
Most dogs might bite it off or get caught in twigs and branches and hurt themselves.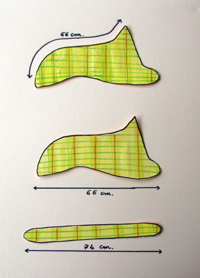 First Step
Cut out the pattern above in tissue paper.
Then trace the shape on the fabric of your choice.

This dog coat sewing pattern measures 66 cm (26 inches) along the top edge as well as overall length.
The band that goes around the chest measures 74 cm (29 inches).
These measures are suitable for a medium size whippet.
If your whippet is bigger or smaller, adjust the measurement as needed for a custom fit.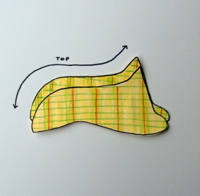 Second Step
Sew the two body sides along the top line.
Third Step
Sew together the front part, overlapping the right and the left.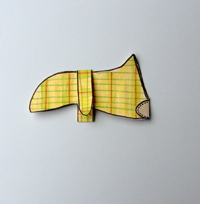 Forth Step
Add the belt, attaching it at the top. Sew a velcro strap at the side to secure it safely and quickly.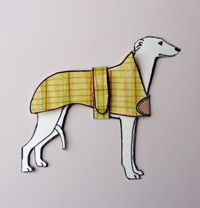 Fifth Step
Try it on your dog and take him for a walk to show off his new warm dog coat!


Back to Whippet Coats


Go from Whippet Dog Coats to TheWhippet.net Homepage
Anything to add to the content of this page? Leave a comment in the box below.