Pet Insurance: Secrets The Insurance Companies Don't Want You To Know
Pet Insurance: Secrets The Insurance Companies Don't Want You To Know By [https://EzineArticles.com/expert/Dr_Andrew_Jones,_DVM/1208483]Dr Andrew Jones, DVM
Veterinary fees are soaring, so many pet owners are considering pet insurance. This article will show you the pros and cons about pet insurance, what to watch out for, and help you decide if you need it. Lastly I'll show you some simple tips to decreasing the likelihood of you needing pet insurance for your dog or cat.
Veterinary medicine and surgery has advance dramatically in the last 10 years. Specialty care for diseases such as cancer can easily cost the pet owner in excess of $5000. There now advanced diagnostics such as MRI, and referral surgeries such as kidney transplant; once fatal conditions are now treatable, but cost to you the pet owner can run into the thousands.
Fortunately, your pet will likely never need any of these advanced treatments. I'm of the opinion, that most people are better off putting money aside into a savings account; in most cases you are financially better off not having pet insurance. As opposed to spending $50 a month on pet insurance, put away $50 a month into a savings account. In 1 year you would have saved $600 for emergency veterinary care. Pet insurance deductibles vary from $100 to $250 per visit, so for your average veterinary visit, you wouldn't be claiming insurance.
Pet insurance is not always the answer; as with other types of insurance, often when you need it the most you are unable to get it. There are many things to consider such as the monthly cost, the deductible, the exclusions, the surcharges, the payout limits, and penalties for filing more claims. Monthly costs vary from 30 to over 100 dollars per month. All insurance companies have deductibles which typically average $250- meaning you need to spend more than this amount to get any money back. Most companies have exclusions on pre-existing conditions and hereditary conditions; for instance if you insured your German Shepherd puppy who was diagnosed at 9 months with dysplasia you would likely not be covered by the insurance company. Most companies have a payout limit over the life of your pet, with limits per year; a large surgery will only be partially covered. The monthly premium will often increase as your pet gets older or as you file claims (which of course was your reason for having insurance in the first place).
In order to gauge whether or not you need pet insurance, you need to be asking yourself 2 big questions. How much would you be willing to spend if your dog or cat had a serious illness? Would you be able to pay all of those expenses yourself? If you would be willing to spend thousands of dollars in your pet, but you are unable to pay for it all yourself, then you are a candidate for pet insurance. In my veterinary practice I dealt with many pet insurance companies, the one which I felt provided the best value for pet owners was Trupanion.
Ultimately what you really want is to be avoid using pet insurance in the first place. This means keeping your dog or cat healthy in preventing more common diseases. Feed your pet a quality canned and dry food, along with some food you make at home. Only give the minimal number of vaccines as infrequently as possible, and avoid the excessive use of conventional medication. If possible use natural options with minimal side effects. Give your pet regular exercise and attention, including examining your pet weekly at home. It ultimately comes back to you being an involved and empowered pet owner by advocating for your dog or cat's health- with or without insurance.
You should now see why veterinary fees are increasing and more pet owners are looking at pet insurance as an option. There are serious issues with many insurance companies, so before you purchase any pet insurance you need to be aware of the monthly cost, the deductible, the exclusions, the surcharges, the payout limits, and penalties for filing more claims. Lastly you should be able to follow some basic steps to keeping your pet healthy in preventing disease at home, avoiding pet insurance in the first place.
Dr Andrew Jones is the author of a Free Ebook, Dog and Cat Health Secrets, which gives you over 100 safe, natural and effective at home remedies to solve your pet's health problems quickly and easily at home. He reveals what Vaccines to AVOID and what to give, The BEST food to feed, plus HOW to save money on veterinary fees. Your FREE DOG AND CAT HEALTH SECRETS BOOK is at http://www.theonlinevet.com
Article Source: [https://EzineArticles.com/?Pet-Insurance:-Secrets-The-Insurance-Companies-Dont-Want-You-To-Know&id=6702662] Pet Insurance: Secrets The Insurance Companies Don't Want You To Know



Question of the Month
Excessive Barking


What to do if your whippet keeps you awake at night with unjustified barking.




Questions Answered about Excessive Barking




Free Whippet Training Course!


Subscribe to the free whippet training course and get it directly in your mailbox.

Did you get a puppy? Are you planning to get one? Get ready with this puppy training course!

This flash course is divided in 7 short installments that cover the basics: shopping list, house training, leash walking, sit and stay, recall and dog aggression.

You'll receive them every 3 days to give you time to practice in between.

All you need to start off on the right foot!

Click here for your FREE WHIPPET TRAINING COURSE!


Highlights


The Whippet of the Day

Make your whippet dog of the day! Don't be shy, send us your best pictures and let the world know about a very special whippet dog... yours!

Don't let those dog pictures be forgotten at the bottom of a drawer or languish in your computer, dig out your best whippet pics and put your pet in the limelight where he belongs.



News and Articles
Loose Dog? Don't chase! Stop, Drop and Lie Down
The science of how behavior is inherited in aggressive dogs
Bob the Wonder Dog
The hidden menace of attacks by dogs off leads
YOU CAN NOT OWN AN AZAWAKH
Weird Things That Dogs Do - And Why They Do Them
Hound Art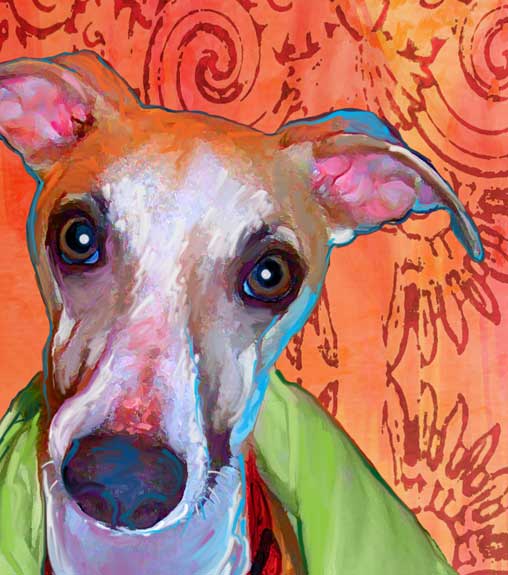 I hope you enjoyed this issue of The Whippeteer.

Visit the TheWhippet.net frequently as we are constantly updating our site with information, resources and tips for the dog lover.

I would like to thank here all our readers whether they are regular visitors or new to the site and especially all the contributors to our pages.

They all made my job more rewarding and our site more interesting for everyone.

All your contributions are really appreciated! Visit us soon at TheWhippet.net!