How to Make a Martingale Collar
Martingale collars are easy to slip on and off but they tighten slightly around the hound's neck in case the dog pulls back. These collars are practical, good looking, safe and comfortable.
Cheap dog collars can be easily made at home with the materials of your choice. When you build your own dog collar, keep in mind that it will be as solid as its weakest part. Use only welded rings and strong materials.
Here is the dog collar hardware you'll need for a medium size dog like a whippet, adjust the measurement for bigger or smaller dogs.
2 D shaped rings measuring about 3.5 cm. (1.3 inches) at the straight part of the D.
1 round ring of 2.5 cm. (1 inch) of diameter.
1 strip of leather or suede 3.5 cm. (1.3 inches) wide and 25 cm. (10 inches) long. For the precise length, measure your dog just behind the ears and allow 4 cm. (1.5 inches) extra for the riveting.
1 strip of strong leather or nylon of 1.5 cm. (half an inch) wide and 28 cm. (11 inches) long.
5 rivets
25 cm of the prettiest ribbon you can find, a tad thinner than the 3.5 cm. leather strip.
Sewing tread and needle.
First Step
Sew the ribbon on the 2 cm. wide strip of suede. If you don't have a sewing machine, first punch small holes in the leather where the stitches will go, then using a saddle stitch attach the ribbon to the suede.
If you use a nylon strip, quickly pass the extremities on a lighted match
Second Step
Double the ends of the strip of leather and attach the D rings with four rivets.
Third Step
Thread the nylon strip through the D rings and the round ring as in the figure.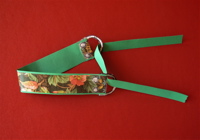 Fourth Step


Insert the round ring.
Fifth Step


Secure with the last rivet.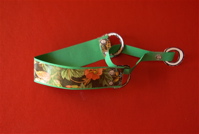 Now slip the collar on your whippet and this is what your martingale collar will look like on your dog. Well done!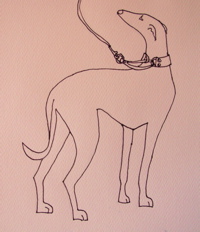 More about whippet collars, click here!
Free Whippet Training Course!


Subscribe to the free whippet training course and get it directly in your mailbox.

Did you get a puppy? Are you planning to get one? Get ready with this puppy training course!

This flash course is divided in 7 short installments that cover the basics: shopping list, house training, leash walking, sit and stay, recall and dog aggression.

You'll receive them every 3 days to give you time to practice in between.

All you need to start off on the right foot!

Click here for your FREE WHIPPET TRAINING COURSE!


Highlights


The Whippet of the Day

Make your whippet dog of the day! Don't be shy, send us your best pictures and let the world know about a very special whippet dog... yours!

Don't let those dog pictures be forgotten at the bottom of a drawer or languish in your computer, dig out your best whippet pics and put your pet in the limelight where he belongs.


Whippet Car Sickness Survival Guide




News and Articles
Adopt Don't Shop – A Dog?
Weird Things That Dogs Do - And Why They Do Them
Loose Dog? Don't chase! Stop, Drop and Lie Down
The science of how behavior is inherited in aggressive dogs
Hounds – Toplines & Underlines
Westminster: Meet the New Breeds
How to Teach Your Dog the "Stop Barking" Command
Driving with your dog, safely.
Walnut The Whippet Joined By Hundreds Of People On Final Walk
Radish The Ball-Bopping Whippet
Hound Art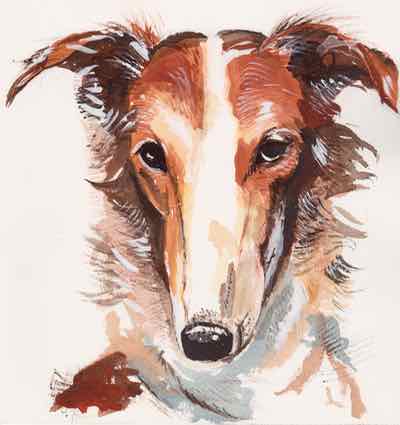 I hope you enjoyed this issue of The Whippeteer.

Visit the TheWhippet.net frequently as we are constantly updating our site with information, resources and tips for the dog lover.

I would like to thank here all our readers whether they are regular visitors or new to the site and especially all the contributors to our pages.

They all made my job more rewarding and our site more interesting for everyone.

All your contributions are really appreciated! Visit us soon at TheWhippet.net!