Highlights


Your Whippet Can Be the Dog of the Day!

Make your whippet a star for a day (or longer) by entering a picture in the Dog of the Day and see your pooch in our homepage!


Your Whippet Mix Can Be a Star Too!

Your whippet cross deserves the spotlight! Send us a picture of your whippet mix and make the title of this page Whippet Mix Pictures .
Did You Make a Whippet Coat or Sweater? Share It!

Enter on this page a picture of your whippet coat and share your masterpiece with other whippeteers!



Share Your Whippet Adoption Stories!
Share your whippet adoption story! Did you rescue a whippet in distress? Send us your whippet's story and let other dog lovers know about best and the worst of your experience.




A Great Book in a Small Package
Whippets (Complete Pet Owner's Manuals)





The 2016 Whippet Calendar is Here!

Whippet Calendar - Breed Specific Whippet Calendar - 2016 Wall calendars - Dog Calendars - Monthly Wall Calendar by Avonside
News and Articles
Are You a Dog Breeder, or Are You Just Breeding Dogs?
Well Socialized? No, Well Traumatized!
How Much Sleep do Dogs Need?
68 Most Popular Whippet Dog Names
PICKING A SHOW PROSPECT PUPPY FROM YOUR LITTER
Why your lost dog may not run back to you
Greyhounds, The Most Unique Dogs On The Planet
Whippet Art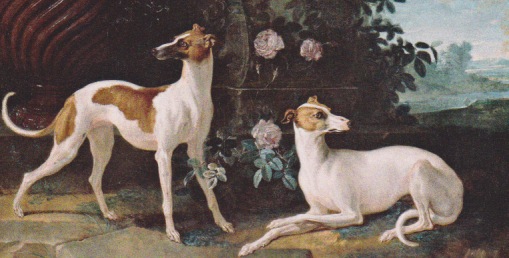 Featured Article


5 Steps To Treating And Preventing Dog Hot Spots
By Dr Andrew Jones, DVM
A hot spot is a very painful and sudden localized skin infection that needs immediate care. In this article you will learn exactly what you need to do to treat this skin disease at home. You will learn exactly what a dog hot spot is, and the causes of these localized skin infections. Then you will find the exact steps to take to treating these at home, and preventing hot spots in dogs from reoccurring.
The veterinary name for dog hot spot is called acute moist dermatitis. This is a surface skin infection that is very itchy, smelly, and often appears wet or moist. They are a local area of bacterial infected hair follicles. They often form on the face and at the base of the ears, and most often during the warm summer months, but can happen at any time. Often they will start with a scratch or wound and then this causes the skin to become infected and develop into one. Allergic dogs will often scratch at their skin, allowing the bacteria to flourish locally and turn into an infection.
Hot spots develop very quickly, and catching them early is the key to preventing them from turning into a bigger problem. The first stages show up as moist, red, itchy skin. The infected skin will ooze pus, and this will dry up forming a crust over the infected area. The sooner you catch the hot spot, the easier it is to treat, and more likely to respond to home remedies
Removing the hair around the infection is the first thing you want to do. You can use a pair of blunt nosed scissors to trim as much hair as possible on and around the spot. If you have clippers use them for trimming. These can be very painful and some dogs will not let you trim much hair.
The next step is to clean the area well with some type of local antiseptic. One option is to use a mild, non-perfumed antiseptic soap such as chlorhexidine to clean the skin. Gently dab it on the spot, lather up and rinse well. Another option is to use antibacterial soaps, and then clean the area well after with a clean damp cloth.
The key to curing these local skin infections is to get them to dry out. A very effective antiseptic drying solution is tea and aspirin. Brew up a strong cup of black tea and dissolve an aspirin tablet in it. Soak a cloth in this brew and apply it to the area for 5 minutes four times daily.
Two soothing herbs that I frequently use for any type of skin irritation are Calendula and Aloe Vera. If you have one of these on hand, then use them after applying the treatment for drying out the hot spot (the tea and aspirin).
Lastly the big key to preventing dog hot spots from recurring is by lowering the chance of your dog having an allergic reaction, and then subsequently scratching himself, triggering the problem again. This is best accomplished with adequate doses of omega 3 fatty acids, which can best be given in the form of flax oil. I advise a dose of 1000mg per 10lbs daily, which equates to 1 tablespoon per 50lbs of body weight daily.
Hot spots in dogs are serious localized skin infections that can be both treated, and prevented at home. They are usually caused by an allergic dog which scratches himself, allowing the normal skin bacteria to flourish, and form a wet, painful, red area of skin. Treatment involves removing the hair, applying topical remedies to decrease the inflammation, treat the infection and dry up the wound. Prevention is geared toward stopping the allergic response, and best accomplished with the proper dosage of essential fatty acids.
Dr Andrew Jones is the author of a Free eBook, Dog Health Secrets, which gives you over 100 safe, natural and effective at home remedies to solve your dog's health problems quickly and easily at home. He reveals what Vaccines to AVOID and what to give, The BEST food to feed, plus HOW to save money on veterinary fees. Your FREE DOG HEALTH SECRETS BOOK is at http://www.theinternetpetvet.com
Article Source: https://EzineArticles.com/?expert=Dr_Andrew_Jones,_DVM

https://EzineArticles.com/?5-Steps-To-Treating-And-Preventing-Dog-Hot-Spots&id=7084175





I hope you enjoyed this issue of The Whippeteer.
Visit the TheWhippet.net frequently as we are constantly updating our site with information, resources and tips for the dog lover.
I would like to thank here all our readers whether they are regular visitors or new to the site and especially all the contributors to our pages.
They all made my job more rewarding and our site more interesting for everyone.
All your contributions are really appreciated! Visit us soon at TheWhippet.net!