Crate Training a Dog: What Kind of Dog Crate Do You Need?


A new puppy is coming home or you decided to crate train your older dog.

What kind of crate will you need?

What is the appropriate crate size for your dog?





Crate Training a Dog - What Kind of Dog Crate Should You Get?
By Maria Mishek

Crate training a dog is not only good for your dog - but good for you! Dogs love having their own personal space or "den" to cozy up in.






There are several different types of dog crates to choose from. But which one is the best?

The best training dog crate really depends on how you will be using it.

Do you want a permanent dog crate? Do you want one that is collapsible for transporting your dog? Do you want a stylish dog crate that fits in with your decor?

These are all important in making your decision. But the best dog crate fits your needs AND your budget!

Collapsible wire mesh dog crates have the advantage if being collapsible for transport or traveling. They have great air flow, and enable your dog or puppy to see a wide portion of his surrounding area.

They are super easy to assemble with no tools involved...and you can get them with 1, 2, or 3 doors. But they are difficult to clean because the mess can get trapped in the meshing.

You can buy wire mesh dog crates for as little as $52.95 on up - depending on how many doors.

A wooden crate may "fit" more appropriately with your furniture, but they are heavy to move, and wood can not be cleaned as well as a non-pourous surface. I've seen lighter weight wicker dog crates that are nice looking. But they're more expensive.

Wood or wicker dog crates start at $189.95 on up. Pricey but worth it if you consider it a piece of furniture.

Metal crates also come in a collapsible style, but they are heavy to move and can cause scratching on your floor. Molded plastic crates are lightweight, and easy to clean, however they do not collapse, making them awkward to transport or store.

These types of crates have many different price points. It depends on the size and material. A good valued priced dog crate is $149.

There are also canvas or tent-like dog crates perfect for smaller dogs.

Canvas dog crates or "purses" can run from $29.99 on up.

HOW BIG SHOULD THE DOG CRATE BE?

The crate should be long enough to allow the dog to lay down stretched out flat on his side, and tall enough to allow the dog to sit up without hitting his head.

With purebred puppies the adult size is fairly easy to predict. Most crates come in standardized size ranges; so selecting one that is appropriate for your dog has become a lot easier.

When in doubt, get the next larger size. It is always better to have a crate that is too large than too small.

WHERE SHOULD YOU KEEP THE DOG CRATE?

Your dog LIKES being near you. So the crate should be placed in, or as close as possible, to a "people area".

The kitchen or family room works great. The dog crate should be positioned in a corner or have the sides and back loosely draped with a sheet or towel to make it more like a den for the puppy.

The dog crate location should also be free from drafts and far away enough from a direct heat source. You don't want your dog getting overheated and irritable!

A dog crate provides your dog or puppy his very own, cozy room! It also keeps your puppy from "accidents"... or trashing your living room!

Should you crate train your dog or puppy? Find out the many benefits of crate training a dog and how to get your dog to LOVE his own, cozy crate at Dog Training Just For Kids

Article Source: https://EzineArticles.com/?expert=Maria_Mishek
https://EzineArticles.com/?Crate-Training-a-Dog---What-Kind-of-Dog-Crate-Should-You-Get?&id=1643609

Click here to read more about crate training a dog




And now, ladies and gentlemen, we have the pleasure to announce that we have a winner for our Whippet Puppy Picture Contest!

Diana Field fom Oregon wins a whippet collar embossed with a hunting scene for her puppy Kayleigh.

Here is Kayleigh proudly wearing her new collar!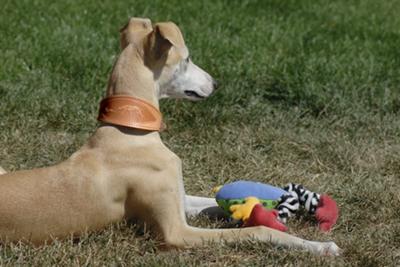 Click here to see the lovely winning picture and the other entries of our photo contest.


Check out some of the most popular pages of our site and have fun!

The whippet mix page

Funny dog poems

Questions anyone?


Visit our bran new WHIPPET POSTER STORE


I hope you enjoyed this issue of The Whippeteer. Check up the whippet.net frequently as we are constantly updating our site with information, resources and tips for the dog lover.

I would like to thank here all our visitors whether they are regular visitors or new to the site and especially all the contributors to our pages.

They all made my job more rewarding and our site more interesting for everyone. All your contributions are really appreciated!

Visit us at TheWhippet.net soon!