Do you have a whippety question? Enter here your query or keyword.
Winona the Whipador?
by Lydia
( North Carolina)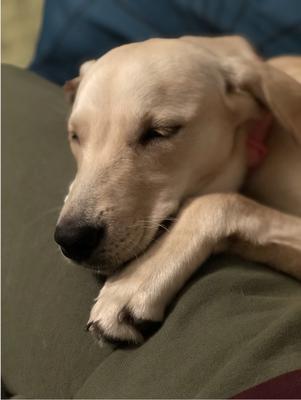 I got Winona in October of 2018 after my cousin and fiancee found her and what we believe were her three sisters on the side of the road in Eastern North Carolina.

My boyfriend and I had discussed getting a second dog and when I met her I knew she was going to be coming home with me. She looked around four months old and definitely a lab mix - I assumed she was mixed with some kind of hunting hound as well due to her characteristics and smaller size.

A few people had told me she looked like a whippet and when I googled "lab whippet mix" I was blown away. It was like I found her long lost family! I had no idea what a "whipador" was but my online research quickly convinced me I just may have a whipador living in my house. Haha!
Winona definitely has the lab coat - she is currently shedding like crazy.

She is more of a barker than not. She is also insanely protective and loving towards me. She brought me her first kill (a baby bunny) the other week which she was so proud of - even though I was a little shocked.

My boyfriend said he could tell she would be dangerous to small prey so I guess that is the whippet showing. She loves to run and when she gets the zoomies I don't know that I have ever seen a faster dog. She does seem to have some social anxiety - she is not a big fan of new things or small children and she does not like being away from me for a second longer than necessary.

It has been only about 9 months since she came into my life and I can not imagine life without her. She is playful, she is smart, she is loving, she is very food motivated which has made training her very easy and god she loves to run! I ran one 5k with her and she definitely thought I was going way too slow.

I still want to do a doggy DNA test to confirm what she is but judging from all that I have recently read about whipadors and the many lovely pups I have seen photos of I can't imagine her being anything else!

Also for more cute photos feel free to follow Winona's instagram: @princess_winona_
Join in and write your own page! It's easy to do. How? Simply click here to return to Whippet Mix Pictures.
Subscribe to my Free Newsletter!
With the free e-zine you'll get a house training flash course plus a handy infographic.
And your e-mail address is always safe with us, don't worry!
Sep 19, 20 08:51 AM

Hi, I need some boots for my whippets sensitive paws, but can't find ones that will fit well and stay on anywhere. Then I found Hunnyboots, which would

Sep 02, 20 11:05 AM

My previous dog was a much-loved whippet, but work has got in the way of owning another for the last few years. Now I'm winding down to retirement and

Aug 24, 20 12:56 PM

Twig is the star of the domestic performance. Wether hiding the remote by lying in it so nobody turns over her favourite TV or nuzzling the bees away from