The Chi-Whippet from the Desert and Her Bonus Puppy
by Lorraine Rock
(Ottawa, Canada)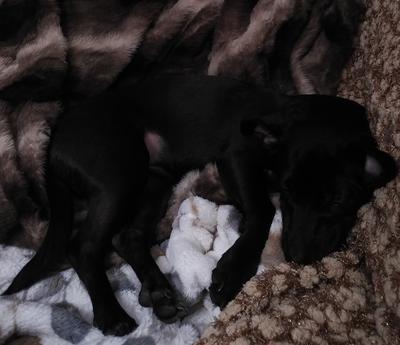 Cosmo at 6 months
In early 2019 my daughter,Ali, who lives in California, fostered a 13 year old, blind, diabetic dog. Chica and her mistress bonded quickly, and for the last 2 months of her life she was well-loved and constantly by her new "Mom's" side. Literally, worn in a body sling close to Ali's body, many people assumed she was carrying a new baby, but encountered an affectionate. sweet old dog when they investigated.
When Chica died Ali wanted to do something in her memory, so she volunteered to foster again. Charlotte was found in the desert, apparently abandoned, and heavily pregnant. Ali was told that she was a chihuahua and was expecting 3 puppies in about a week's time. She needed a safe and peaceful environment in which to give birth.
Ali had never assisted at any birth, but the foster agency offered no help, so she and Charlotte labored through the night of May 4th to fifth, and 3 puppies were born, the first very quickly, and the next 2 after an hour. It seemed that Charlotte had done this before, and she cleaned them up and started nursing. Ali went out for supplies, and when she came back counted the puppies, and there were 4! The largest puppy was born last, and he was almost one and a half times the size of the other three!
Unfortunately two of the pups did not survive, probably due to the stress of their mother's pregnancy, but Cosmo, the biggest pup, and his slightly smaller sibling, Georgie, are thriving.
At 4 months Cosmo was bigger than his Mom, and started to show definite whippet characteristics. At 5 months, when I adopted him, he looked like a mini greyhound, but has the disposition of a whippet, curious, affectionate and a real clown. Not to mention that he can run like the wind!
We plan to get his DNA tested, but after looking at pictures on you site I am convinced that this beautiful dog is mostly a Chi-whippet. What do other readers think?
Subscribe to my Free Newsletter!
With the free e-zine you'll get a house training flash course plus a handy infographic.
And your e-mail address is always safe with us, don't worry!
Sep 19, 20 08:51 AM

Hi, I need some boots for my whippets sensitive paws, but can't find ones that will fit well and stay on anywhere. Then I found Hunnyboots, which would

Sep 02, 20 11:05 AM

My previous dog was a much-loved whippet, but work has got in the way of owning another for the last few years. Now I'm winding down to retirement and

Aug 24, 20 12:56 PM

Twig is the star of the domestic performance. Wether hiding the remote by lying in it so nobody turns over her favourite TV or nuzzling the bees away from