Do you have a whippety question? Enter here your query or keyword.
Pictures of Whippets
Enjoy our collection of pictures of whippets. This gallery of whippet pictures was assembled during many years of sharing our lives and sofas with our miniature greyhounds.
I must admit that sometimes pictures of whippets are not easy to take.
When the dogs are in action, they are too fast for the camera and when they are at rest, although they look elegant while comfortably installed on your favorite chair, they offer a rather static picture of a whippet.
It takes at least to people to have a dog pose for the camera and this often disrupts family life, everybody seems to have a different idea of what is the best pose and how to achieve it.
Nevertheless, during many years of living together with our dogs and through stubborn persistence, I collected an album of whippet pictures of reasonable quality.
We love to look at these whippet pics because the story of our dogs is so closely intertwined with that of our family and our travels.
We hope you enjoy looking at these pictures of our whippets as much as we do. Check this page often, we might be able to catch that magic moment and share it with you.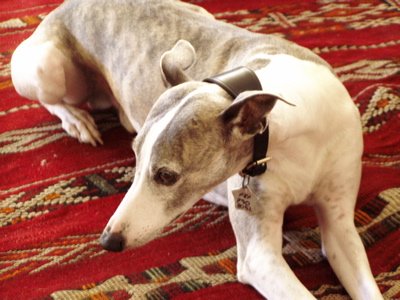 Yes, also a whippet pup, like any other mammal will go trough many growing stages before becoming the kind of beautiful, sleek dog we might see at a show.
From a helpless little thing whose only business is eating and growing, he will become a plump (yes, even whippets at this stage are round and cuddly), adorable and mischievous puppy with a dangerous interest in shoes and anything he can sink his teeth into.
Only too soon, like any teenager, he will suddenly mutate from that delightful puppy into an awkward creature unable to control his elongated limbs and with a propensity to test your patience.
Our dogs are so patient and enjoy so much attention that they allowed us to take these photos without any fuss.
They didn't object wearing seasonal headdresses and actually behaved like experienced fashion models.
Whippets are as so willing to please that they happily participated in a dress up game and let us transform them in reindeer, witches, Easter bunnies, red devils and Santa Claus: whippets for every season of the year.
These pictures of whippets are a credit to the patience and adaptability of the breed. It's hard to recognize in these photos the same racing hounds that the previous weekend were so intense and focused on their task at a racing meeting.
Our whippets demonstrated incredible patience in modeling with the various headdresses. Of course it helped that they had just enjoyed a good run in the park and an abundant meal.
But I think the critical factor was the attention and care they received during the taking. Whippets crave love and to receive attention becomes the best motivation.
Their composure and tolerance is a real credit to the breed. Whippets are capable of great intensity in the hunt but easy and relaxed at home even in the most demanding occasions like a session of whippet pictures taking.
Back to whippet pictures


Back to Homepage from pictures of whippets
Subscribe to my Free Newsletter!
With the free e-zine you'll get a house training flash course plus a handy infographic.
And your e-mail address is always safe with us, don't worry!
Dec 29, 20 10:15 AM

Well what can I say I have a lovely blue whippet I was given as a gift 5 years ago 2015 I'm actually going to breed her this year coming. Miss molly is

Oct 28, 20 12:42 PM

Are Whippets Good with Babies? Whippets are reliable family dogs but dogs and kids are not always a good mix.

Oct 22, 20 10:11 AM

Greyhound whippet Italian greyhound: compare these three dog breeds and find your perfect match.