Do you have a whippety question? Enter here your query or keyword.
Our "Carly", a Whippet-Jack Russel Mix
by James Allen
(Tucson, AZ )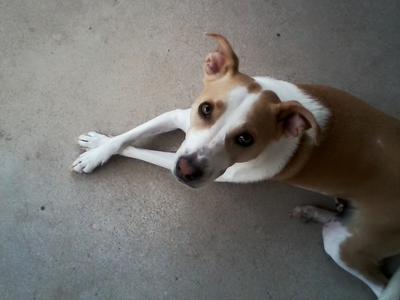 We adopted Carly from a shelter in early January 2018, when she was just one year old.

Her paperwork claimed she was an Australian Cattle Dog mix, but we had our suspicions. Once we looked up "WhipJack" and "Whippet/Jack Russell", there she was!!

Carly has truly brought so much joy and depth to our lives. Her personality is so soothing, calm, and always wants to be close.

The "Russell" side comes out for "play time", and she is so very comical. The Whippet side is the "runner" in her, and she is amazing to watch when those legs get going!!

She's sitting here beside me as I write this, knowing I'm talking about her. LOVE this little girl.
Join in and write your own page! It's easy to do. How? Simply click here to return to Whippet Mix Pictures.
Subscribe to my Free Newsletter!
With the free e-zine you'll get a house training flash course plus a handy infographic.
And your e-mail address is always safe with us, don't worry!
Jul 08, 20 11:09 AM

Why does my whippet want me to find his bone? He hides milk bones all over the place and sometimes he finds it immediately and hides it again and again.

Jul 08, 20 11:05 AM

My wife and I are really struggling finding 'the right' smallish rescue dog and what we don't want to do is buy from a breeder. Has to be a bitch and everyone

May 10, 20 01:08 PM

Charming playful (neutered) male whippet aged 5 looking for a whippet pal. I take plenty of rest between showing off in the park. Text me on 0868114974,