Do you have a whippety question? Enter here your query or keyword.
Kisharo Whippets

(Kitchener, Ontario)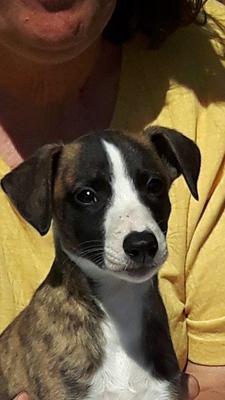 Located in Kitchener, Ontario

Owned and Loved Whippets since 1971!

Health tested yearly by board certified specialists

Only breed 1 litter a year, puppies are born in my bedroom and once they're mobile, they come out to the centre of our world in the house! I devote my life to my babies and they are ready to conquer the world!

Consistantly have many repeat buyers for my dogs/puppies, temperament is so important, and makes me so proud to have people return for generations (2nd, 3rd, 4th, 5th!!)!


Pictures of puppies from this year's litter (2017), a few available

Nancy
email at kisharo1@gmail.com
working on new website!
Join in and write your own page! It's easy to do. How? Simply click here to return to Whippet Breeders.
Subscribe to my Free Newsletter!
With the free e-zine you'll get a house training flash course plus a handy infographic.
And your e-mail address is always safe with us, don't worry!
May 10, 20 01:08 PM

Charming playful (neutered) male whippet aged 5 looking for a whippet pal. I take plenty of rest between showing off in the park. Text me on 0868114974,

Apr 19, 20 10:28 AM

I've always wanted a greyhound or whippet, but a greyhound was too big for my age and circumstances. Found a whippet mix locally and adopted Sparky,

Mar 30, 20 11:09 AM

My fiance and I are interested in getting a Whippet. We have done a lot of research and we feel this is a perfect dog for us! Please let us know if you