Whippet Puppies Picture Contest
I would like to thank all the whippet dog lovers who participated in our Whippet Puppies Picture Contest.
We received many wonderful, fun pictures and stories and our visitors voted for their favorite pics with enthusiastic participation.
Especially in the last days the competition was hot and the pictures received many comments in totally unexpected languages. We had to use an on line translator to understand some of them!



And now, ladies and gentlemen, let the drums roll for our winner!

We are happy to announce that this is the winning picture of our contest.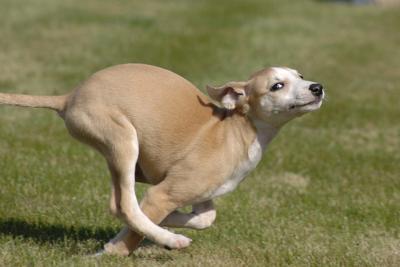 Kayleigh by Diana Field


Click here to read Kayleigh story
Kayleigh's pictures wins with eight positive comments.
Congratulations, Diana for your lovely puppy, her delightful photo and story.
I bet that with her look full of mischief she must be a handful but also a great joy.
As the winner of our contest Kayleigh will receive a beautiful leather whippet collar embossed with a hunting scene.


And Here is Kayleigh Proudly Wearing her New Collar!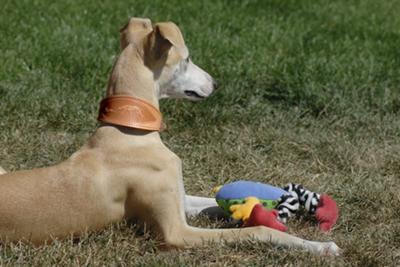 Thanks Diana for the picture, your puppy looks very serious and determined with her "hunting" collar.
Whippet Pictures and Stories we Received from our Visitors.
Click on the links below to see the contest entries from other visitors...

Back to Home Page from Whippet Puppies Photo Contest

Back to Dog Photo Contest

Whippet Freebies!

Get a free book: Whippet Tails - Short Dog Stories,

plus

 an infographic and more as a welcome gift for your subscription to The Whippeteer, our free newsletter!

Don't worry your Email is safe with us, subscribe now!
Aug 13, 17 11:04 AM

This is Floyd and his daughter Bambi.

Jul 27, 17 05:26 AM

Kelsey is the most joyful puppy ever. He loves to walk in the park, go to obedience training (well, sort of) and cuddle in bed. He's four months old

Jul 14, 17 11:23 AM

I moved into my new home after a marital break up. I was lonely as hell! I saw this strange looking and oddly shaped (staffy mix) dog. Long story short.