Whippet vs Italian Greyhound
Whippet vs Italian greyhound: find your perfect match.
Both these small hounds look like a "miniature Greyhound"and are built for speed.
They both sport a slender, elegant look and a short silky coat but they are two different breeds with distinct characteristics. 
The Italian greyhound is a very old breed, favorite of the nobility since ancient times as a prized pet.
The whippet is a more modern breed, selected by the miners of North England for racing.
The size, colors, temperament and movement differentiate the Italian  greyhound and the whippet.
You can't decide which breed to pick? Compare them at a glance to decide which one is your perfect pet.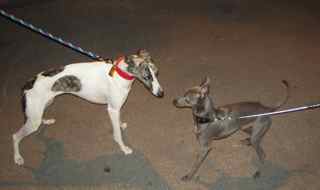 Compare Whippet vs Italian Greyhound



| | | |
| --- | --- | --- |
| | Italian Greyhound | Whippet |
| Size | Small | Medium |
| Height | 32-38cms (12½-15 ins) at withers | 17-20in (44-51cm) |
| Weight   | Ideal Weight 3.6-4.5 kgs (8-10 lbs). | 20-26lbs (9-13kg) |
| Appearance | Very similar to the Greyhound, but much smaller and slender, graceful and elegant  | Combines muscular power and strength with elegance and grace  |
| Color | Any color except brindle or tan markings | Immaterial, any color or mixture of colors |
| Movement | High-stepping and free action | Low, smooth, free moving, never high stepping or stilted |
| Common Health Problems | Broken bones, epilepsy, dental problems  | None |
| Energy | High | Moderate |
| Temperament | Smart, affectionate and lively. May appear aloof with strangers.  | Gentle, devoted, level minded. |
| Not For | Disruptive children, outdoor life | Kennel life |
| Best With | Adult, gentle owners | Loving owners |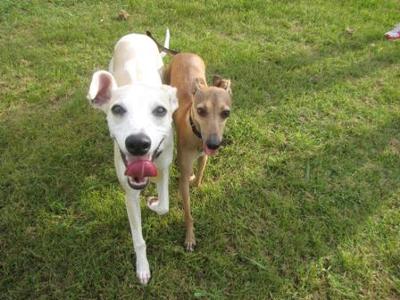 Back to Home Page
Back to Whippet Breed
Whippet Freebies!

Get a free book: Whippet Tails - Short Dog Stories,

plus

 an infographic and more as a welcome gift for your subscription to The Whippeteer, our free newsletter!

Don't worry your Email is safe with us, subscribe now!
Aug 13, 17 11:04 AM

This is Floyd and his daughter Bambi.

Jul 27, 17 05:26 AM

Kelsey is the most joyful puppy ever. He loves to walk in the park, go to obedience training (well, sort of) and cuddle in bed. He's four months old

Jul 14, 17 11:23 AM

I moved into my new home after a marital break up. I was lonely as hell! I saw this strange looking and oddly shaped (staffy mix) dog. Long story short.