Whippet Mix: Bryn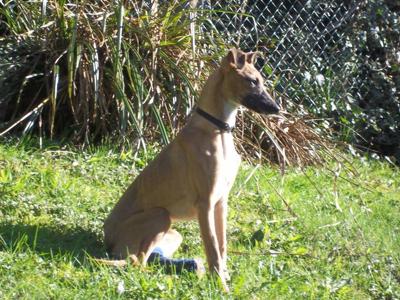 settling in
I rescued the then named 'Trevor' dog from the local dog pound.

He came with a broken leg and a desperate need for love.

For 6 weeks he was in a heavy dressing, terrified and an emotional wreck, he slept for almost two weeks , recovering from whatever his plight may have been, slowly but surely he has become a wonderful companion, albeit a handful at times.

He adores the beach and my bed, he adores the fields and my bed, he loves everybody and my bed!

He won't get much bigger they said, well in that case my bed has shrunk !
Join in and write your own page! It's easy to do. How? Simply click here to return to Whippet Mix Pictures.
Whippet Freebies!

Get a free book: Whippet Tails - Short Dog Stories,

plus

 an infographic and more as a welcome gift for your subscription to The Whippeteer, our free newsletter!

Don't worry your Email is safe with us, subscribe now!
Aug 13, 17 11:04 AM

This is Floyd and his daughter Bambi.

Jul 27, 17 05:26 AM

Kelsey is the most joyful puppy ever. He loves to walk in the park, go to obedience training (well, sort of) and cuddle in bed. He's four months old

Jul 14, 17 11:23 AM

I moved into my new home after a marital break up. I was lonely as hell! I saw this strange looking and oddly shaped (staffy mix) dog. Long story short.