Whippet Clipart
Download free online whippet clipart. A whippet outline is so elegant it will look great on anything.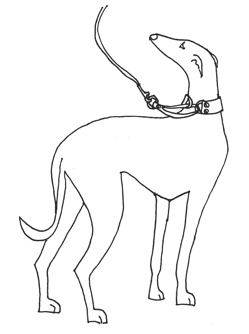 Are you shamelessly in love with the perfect whippet silhouette?
Welcome to the club! You are not alone and the cure for this disease is at hand, just turn your obsession into creativity with your printer and these whippet pics.
Here are a few ideas about how to use these whippet pictures.
Business Cards
If you are a breeder or just a whippet lover, the svelte dog silhouette on your card will make it stand out in the crowd. Add this picture to your card.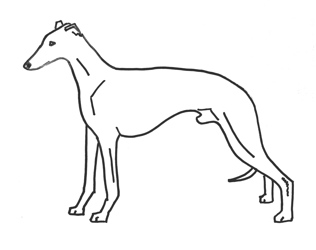 T-Shirts
A shirt with the whippet outline and the name of the breed will spare you from answering endless questions about the name and spelling of your dog breed. Click here for more pictures of whippets to use on t-shirts.
Boxes
Transform an ordinary looking box into a precious one with a whippet picture. With transfer paper you can iron a whippet picture directly on boxes and personalize them.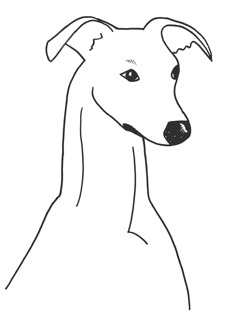 Magnets
They are useful, will decorate appropriately your kitchen and make cute little presents for your whippet lover friends.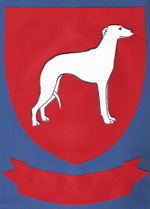 Family Coat of Arms
Give yourself the privilege of choosing your family coat of arms instead of accepting the one that is passed down to you.
Create your coat of arms with this picture, choose your motto and hang it framed in the living room. It will become a good topic for conversation for a boring party.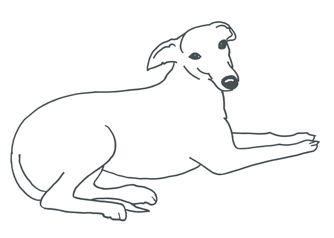 Fund Rising
Planning an event to rise funds for whippet and greyhound adoption?
Prepare sale material with whippet and greyhound clipart: cards, framed pictures, boxes, magnets and t-shirts.
Rest assured that whippets will look good on anything, only your creativity is the limit to the use of clipart.
Back to Whippet Pictures
Go from Whippet Clipart to TheWhippet.net Homepage
Whippet Freebies!

Get a free book: Whippet Tails - Short Dog Stories,

plus

 an infographic and more as a welcome gift for your subscription to The Whippeteer, our free newsletter!

Don't worry your Email is safe with us, subscribe now!
Aug 13, 17 11:04 AM

This is Floyd and his daughter Bambi.

Jul 27, 17 05:26 AM

Kelsey is the most joyful puppy ever. He loves to walk in the park, go to obedience training (well, sort of) and cuddle in bed. He's four months old

Jul 14, 17 11:23 AM

I moved into my new home after a marital break up. I was lonely as hell! I saw this strange looking and oddly shaped (staffy mix) dog. Long story short.