Warm Dog Bed

Looking for a warm dog bed? Find out how to keep your dog toasty warm with a covered bed and a dog bed warmer.

A bed warmer can be a smart investment for many reasons and in many situations especially for whippets and short haired hounds that abhor cold and do not esitate to pester you until you provide a bed comfy and warm enough for their refined taste.
Here are a few perfectly good reasons to fritter away in a warm dog bed:
- You are fed up of being used as a bed warmer by your pet.
- You don't want to share your bed with your whippet.
- You don't want to heat up the the all house when your dog is home alone.
- You want to keep your dog comfortable when you turn down the thermostat at night.
- Your dog must stay in the porch or garage in cold weather.
- You compete in dog events and you and your dogs could use a little extra comfort in the cold.
Cozy Cave Warm Dog Bed





Cozy Cave pet beds are a whippet favorite. They keep your dog comfortable, warm and protected from air drafts. Not for impenitent chewers.
For a whippet choose a large dog bed. Our hounds not only like to be warm, they also love to stretch out!


SnuggleSafe Pet Heating Pad





Totally wireless, this heater can keep your dog warm for up to 12 hours. Place the heating pad in the microwave and follow the included chart for heating times.
The compound inside the pad can retain the heat for 12 hours.
Great for outdoor use and also for cats and puppies but the pad is too tempting for serious chewers.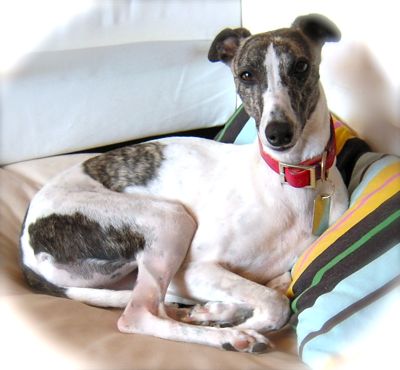 K&H Heated Outdoor Bed






Electric soft heated bed for indoor/outdoor use. It comes in small, medium and large size.
It is flexible and soft. A thermostat will keep the temperature comfortable.
The cord is steel rapped for safety but the bed is not dog chew proof.



PetSafe Universal Pet Bed Warmer






Slip this low-energy, low-voltage electric heater in your indoor pet's bed to warm it up.
This power saving device uses the same amount of energy as a night light to keep your dog warm.
The power cord is chew resistant. Not for destructive dogs.
Back to Cheap Dog Beds
Go from Dog Bed Warmer to TheWhippet.net Homepage
Whippet Freebies!

Get a free book: Whippet Tails - Short Dog Stories,

plus

 an infographic and more as a welcome gift for your subscription to The Whippeteer, our free newsletter!

Don't worry your Email is safe with us, subscribe now!
Aug 13, 17 11:04 AM

This is Floyd and his daughter Bambi.

Jul 27, 17 05:26 AM

Kelsey is the most joyful puppy ever. He loves to walk in the park, go to obedience training (well, sort of) and cuddle in bed. He's four months old

Jul 14, 17 11:23 AM

I moved into my new home after a marital break up. I was lonely as hell! I saw this strange looking and oddly shaped (staffy mix) dog. Long story short.