Free Vet Advice
Ask a Veterinarian Online about your Dog Sickness
Looking for free vet advice? Ask a veterinarian doctor online about your dog sickness symptoms. With our free online veterinarian advice service you'll receive quick and reliable answers.

Clicking on the link below you can ask for reliable vet advice and is free!
Of course nothing can replace a visit at your local vet but if you are in doubt or your usual doctor is not available, here you can receive a free online vet advice.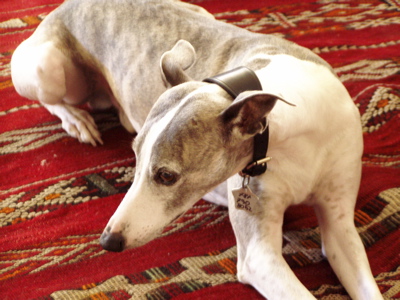 For free vet advice, click here!


More about Whippet Care


Whippets are a very healthy, low maintenance dog breed and your visit to the vet will probably be only for routine vaccinations and the occasional skin tear or running injury.
We listed below some links to pages about common problems and routine care that will keep your whippet in top condition.

Baths and Skin Care
Despite their fragile look, whippets are very healthy, sturdy dogs. Cuts and dog skin rashes are probably the most common dog health problem in this breed. A regular bath regimen is the best way to keep your pet healthy.

Nail Care
It's important for your dog health to include nail trimming in the weekly grooming session with your whippet. Find out in this page how to trim your whippet's nails.

Dog Motion Sickness
Dog sickness due to car motion can make even a short trip seem far too long. Click on the link above to find out how to soothe your dog motion sickness.

Anesthesia Sensitivity
Because of their little amount of body fat sighthounds and whippets are especially sensitive to anesthesia methods that are perfectly safe for other dogs.
The drugs used successfully on other breeds can be harmful or even fatal for your whippet.
If you are not sure if your vet is aware of this sighthound peculiarity, I strongly recommend that you print this page and give it to your doctor.
I know, it may seem pedantic and you don't want to spoil the relationship with your trusted vet but this is a very important issue, your pet life is on the line and is better be safe and pedantic than sorry.


Dog leg injuries in whippets are not as frequent as one would think, given their incredible speed. Find out how to deal with racing dog injuries.



There are always more good reasons not to breed than to breed. Click on the title to read about our adventures with our little unspayed lurcher.
Take care of your dog with essential oils. Click on this link to find out about home remedies you can safely and effectively use for your dog.


Go from Free Vet Advice to TheWhippet.net Homepage